Neptun Diabetes Management
A new approach to diabetes management
Diabetes requires patients and their doctors to actively and regularly track their glucose levels and insulin injections. With the Neptun Diabetes Management app, Diabetes patients can now track their data right on their smartphones. From blood sugar levels and insulin injections to fitness data, the iOS app takes the place of manual note-keeping. It can even synchronize automatically with Accu-Chek glucose tracking devices and insulin injection pens for easy, stress-free tracking. Neptun Diabetes Management is the first app to combine blood glucose and insulin data with users' Apple Health data, allowing doctors and patients to gain deeper insights for improving their Diabetes therapy.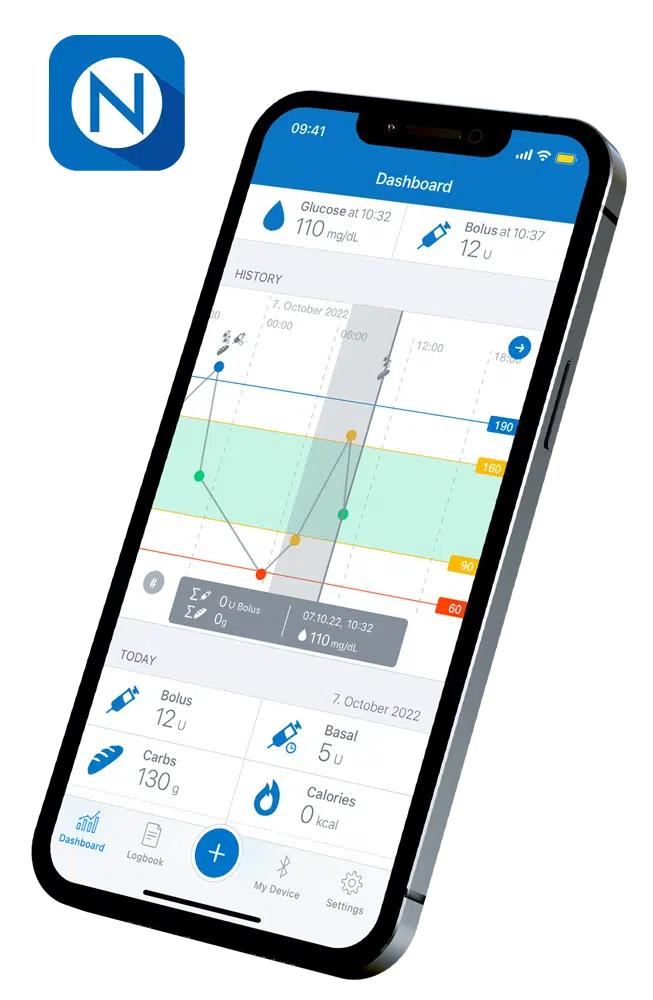 We developed Neptun Diabetes Management in cooperation with Roche Germany, Linova Software GmbH, and researchers at the Technical University of Munich. Keeping momentum with an efficient, agile process – considering the number of parties involved – was a main challenge and achievement during the project. Regular SCRUM meetings and continuous delivery were key to efficiently bringing the app to market. Additionally, Neptun Diabetes Management is classified as a Medical Product of Class I. We made sure that the development process and the resulting app fulfill the requirements that this classification brings along. Extensive automatic and manual testing strategies therefore also formed an integral part of the development process, to ensure its user-friendly design and meet all the legal requirements regarding safety and data security.
In this project we managed to combine the expert know-how for Accu-Check's software​ and blood glucose monitoring which was needed for the implementation of the medical app in an agile development process. For this reason, extensive automated and manual testing strategies were an integral part of the development process. As a Class I medical device, we had to adhere to medical device guidelines during the software lifecycle without impacting the team's productivity too much. Working closely with Roche Diabetes Care experts made the product development as efficient as possible. Regular SCRUM meetings and continuous delivery were key to bring the app to market successfully. User testing by our client on the app's features also helped us to constantly optimize the user experience. More teamwork is not possible!
"The app has become a fine product! […] that does what our users want, runs stable and gets great user feedback accordingly." This is a short snippet from our client Linova's email after the project was completed. Customer satisfaction is an important thing, but another very valuable achievement for us is the fact that we were able to contribute to finding a new way for intelligent diabetes management. People are at the center of our development: we are therefore very proud that our product eases the lives of many patients every single day.
Digital healthcare is a dynamic, never-resting process in which we are happy to accompany Linova in the future. Diabetes is a global challenge today, and by 2030 the number of cases worldwide is expected to rise to 643 million. Not surprisingly, our new joint project is another diabetes app that offers an innovative way to measure blood glucose levels. 
The goal is a new and much more cost-effective approach – we can reveal that much! For us, this ongoing partnership is a confirmation of our work and a great example that our customers see us as a competent partner who makes innovative digital experiences possible.